To coincide with the launch of version two, our store management dashboard will also be getting a major refresh of its own.
There's been a lot of talk about a huge update to the dashboard going on for a while, but as development was progressing, we weren't seeing the large-scale improvements we, or the community, were looking for.
This fed into the decision to move to version two of the API and helped inform the changes we eventually decided to implement. To take full advantage of the improvements we're making with the new version, we made the decision to not make it backward compatible. We wanted to avoid compromising on the design and usability which we would have to do by porting it to version one.
For those of you that aren't aware, the dashboard is our backend management system which helps you manage your store with no technical knowledge of the API. It allows you to set up and manage one or multiple stores with ease; including inventory management, orders, customers, addresses, currencies, taxes, payment gateways and more.
History
Initially, the dashboard was built as an internal GUI, intended for us to manage stores after months of staring at database tables and JSON responses. Once the community discovered this interface they asked for it to be released. After a little polish on the interface and an added login page, it was launched publicly. It didn't develop much further than a GUI with basic management actions.
After public release, users were increasingly relying on the tool to manage their business, and with this, our aims for the dashboard shifted. We wanted to deliver a much more rounded solution for our users that makes any of the time-consuming aspects of building and managing a store, effortless.
Changes
The dashboard was built in PHP, fine for the intended use, but once users started to rely on it, we needed to improve the performance, usability, and speed. We've decided to start over in angularJS which makes page changes faster and takes advantage of the improvements we're making to version two of the API.
The next thing to address was the user experience, as the interface is used by our non-technical users as well as developers. We've given it a complete design refresh to make it more intuitive, focusing on user actions rather than API calls.
At the moment, our filtering and search functionality is quite basic so we're improving this massively to give you more options, all based on Flows and our new search system. You can save your filters for quick retrieval and link directly to a subset of entries.
These architectural changes will enable future developments such as the ability to control custom menu items, store user preferences and implement new API features quickly.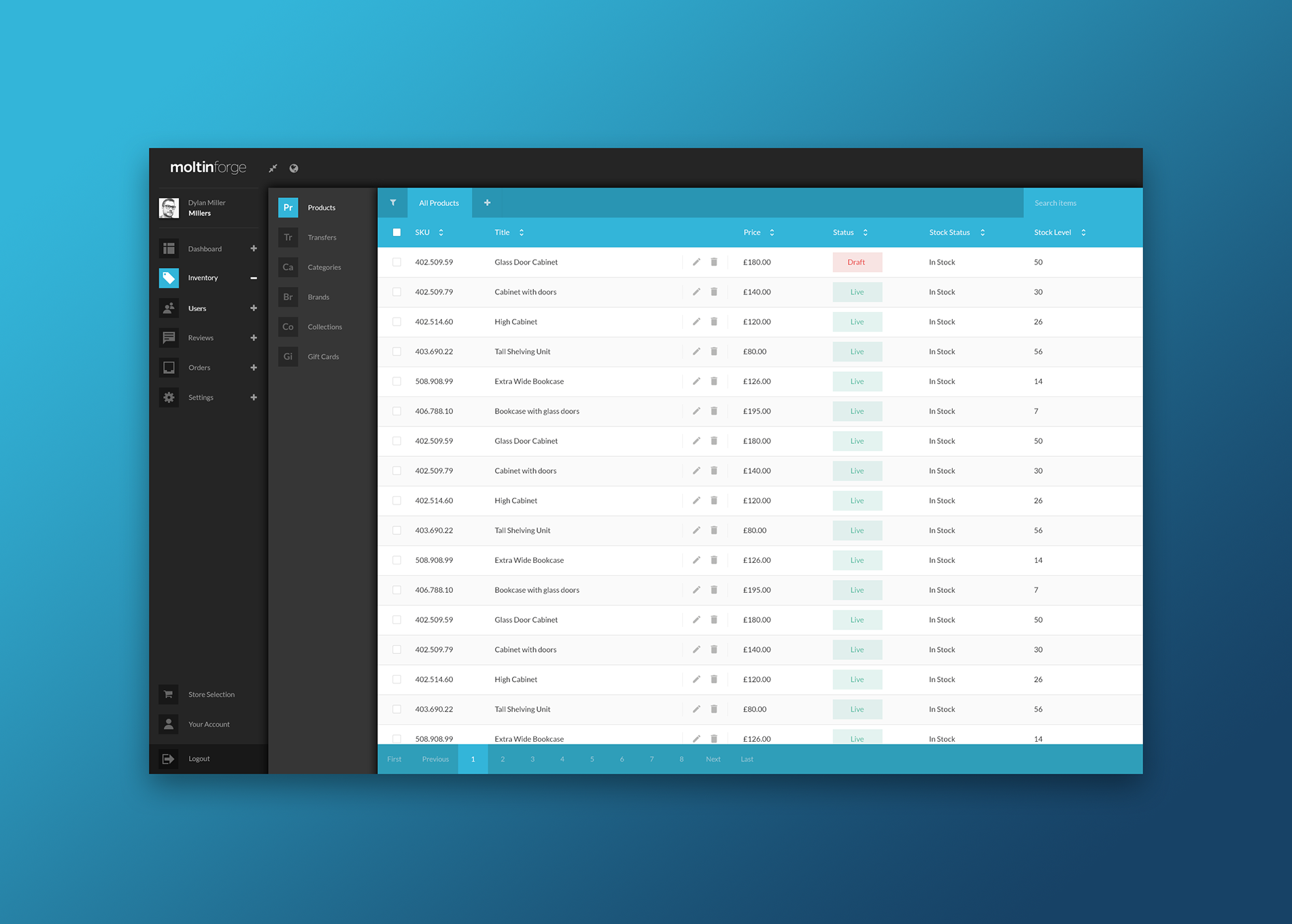 Pages and the overall structure will still feel familiar, but with an all new layout and far more options and control afforded to the user.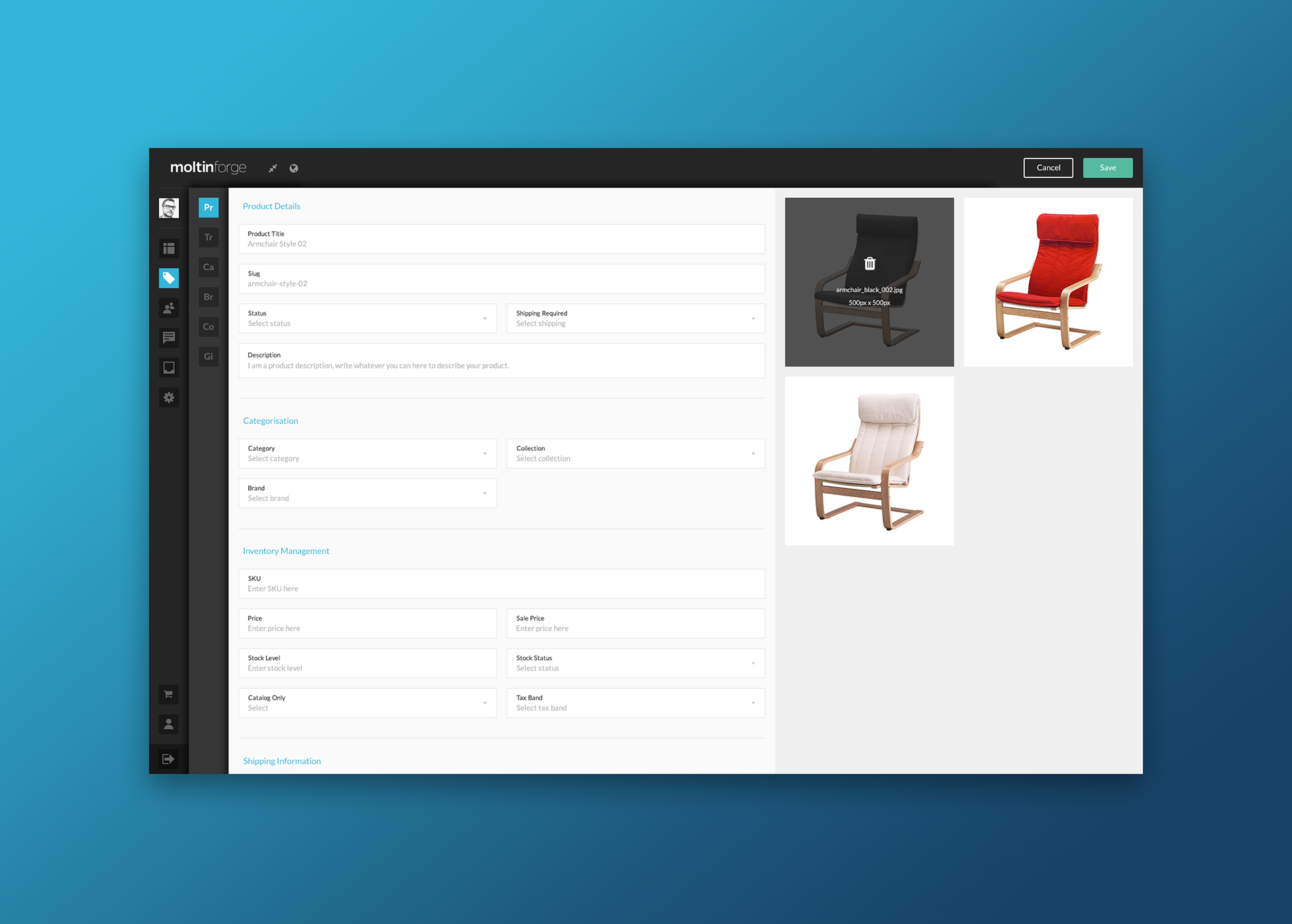 Many pages now feature split panes, allowing you to perform actions that were previously hidden behind tabs and maximize the use of spacing. Form elements have been reviewed and made much cleaner, and easier to use.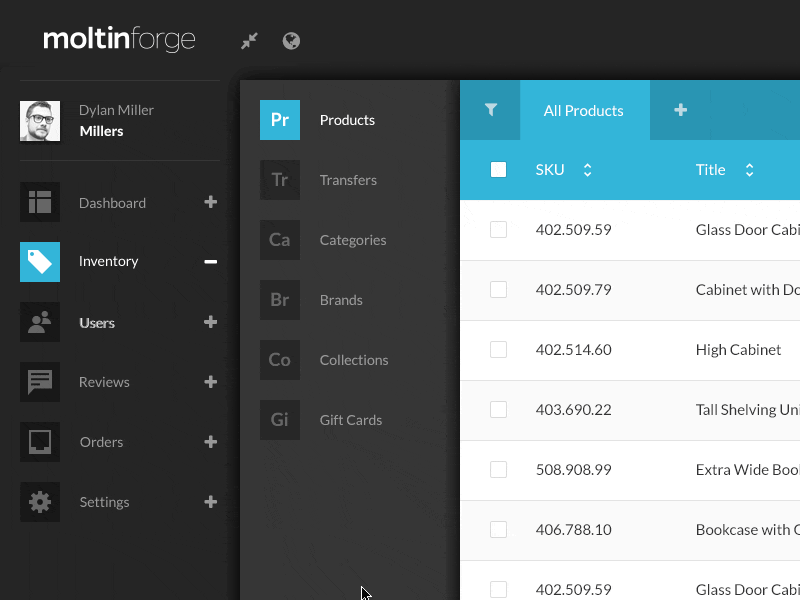 Navigation can be condensed to allow you to focus on the content you really care about.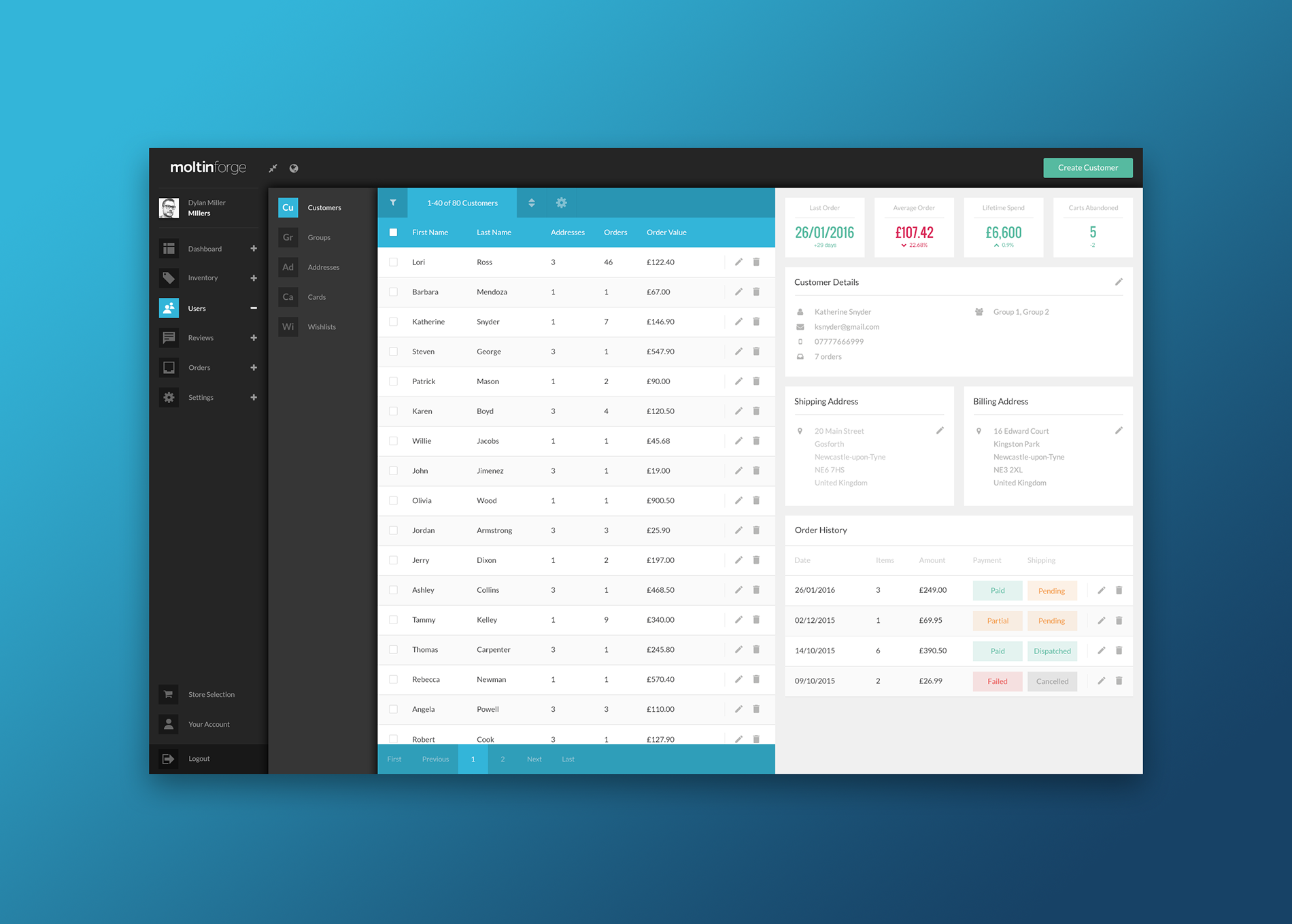 Many of the sections will now provide far more useful and relevant information than before, for example with customers you now get a complete overview all in one place.
For those of you continuing with version one of the platform, we'll also be providing long-term support for version one of the dashboard. Here's the announcement detailing the plans in case you missed it.
Next week, look out for more new features and the first look at the schema we're working towards for version two of the API.
If you haven't yet, give us your thoughts on Moltin and let us know what you'd like to see in version two.