Onboarding is arguably one of the most important aspects of any product or service. Regardless of how well your product functions, you need to be able to teach and nurture your customers effectively to enable them to create innovative experiences with as little friction as possible.
This is something we've been actively working to improve at Moltin for the latter half of 2018 and as a primary goal for 2019. This post will introduce one of many new initiatives, the onboarding tutorial that is now live on Moltin dashboard.
Why onboarding is so important?
Often, people believe that onboarding is complete as soon a customer has created their account and have been verified. Yet, in reality, registration does not equal onboarding.
How far you take it, depends entirely on the product or services you offer. It can be as simple as a personal welcome greeting through to fully featured guides/tutorials tailored to the user's profile.
The best onboarding processes combine a multitude of mediums, and take place over several weeks and sometimes months. They slowly ramp up a customers understanding and involvement in the product by utilizing personalized email campaigns, written tutorials, videos, interactive demos, and many more. This is where we've set our sights.
Personalizing your experience
The first step in 2018 was for our dashboard engineers to revamp the way you sign up to Moltin. Not only have we made it simpler and faster for people to sign up, we were also able to start gathering information around what signups wanted to achieve with Moltin. Read about some of the feedback we received in the post on onboarding vision written by one of the founders of Moltin, Jamie Holdroyd.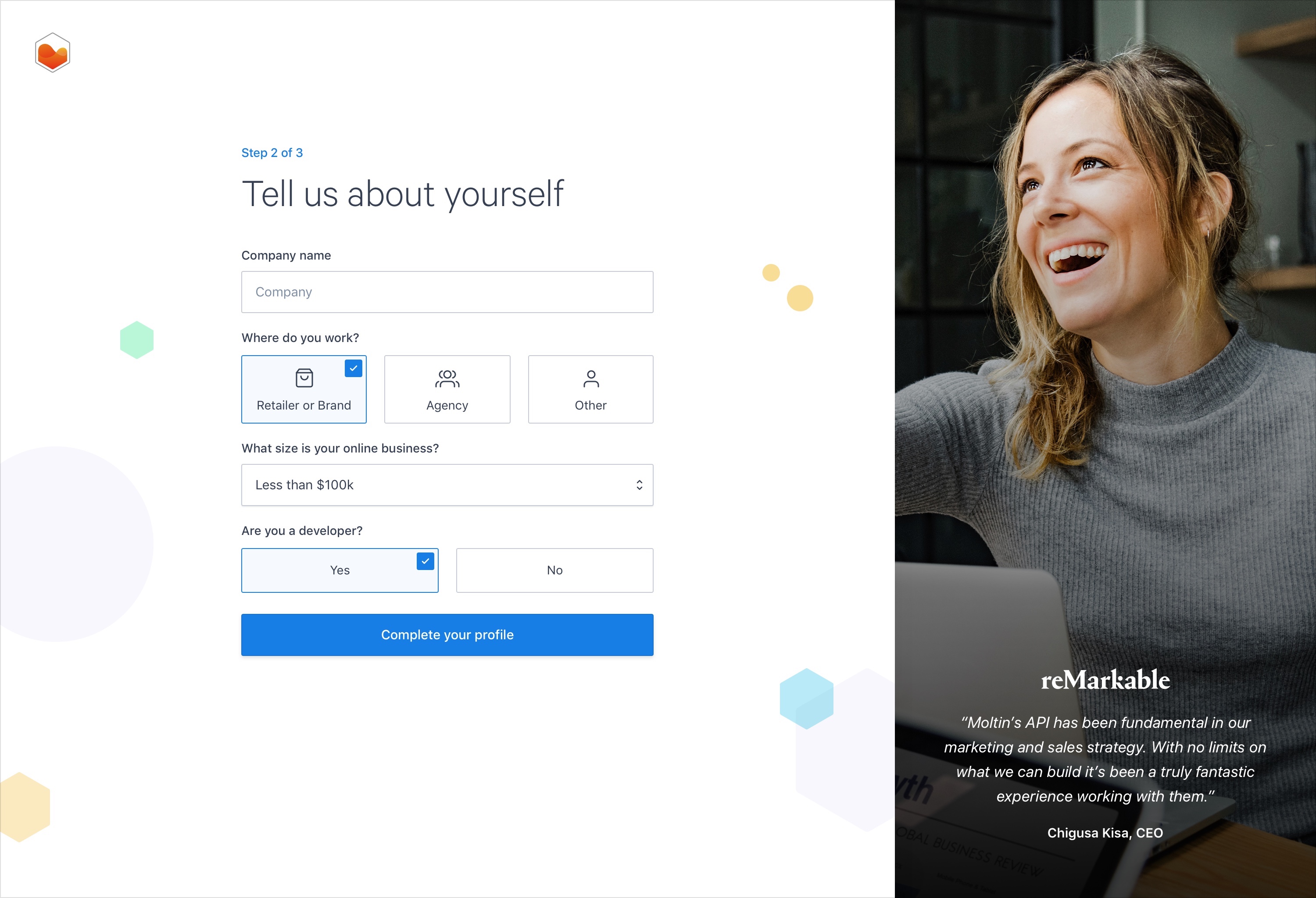 This data allowed us to better build up different personas of our customers, and begin to personalize elements of the dashboard appropriately. As an example, those who have indicated an interest in building JavaScript applications with Moltin will gain access to developer-focused JavaScript tutorials.
Such dashboard feeds, while not perfect, provided us with a framework to build upon moving forward to tailor experiences specifically to your requirements and aspirations.
Put theory to practice with our onboarding guide
To help convey to developers just how straightforward it is to complete a simple checkout flow with Moltin, we've launched a new API tutorial accessible from within the dashboard.
Rather than simply going down the road of "here are some steps to follow", we've created an interactive process to complete in few simple steps, the cURL requests you'll make are live and you will be able to see real responses from our API 🎉
The tutorial will walk you through the four main aspects of the checkout flow:
Creating your first product.
Adding a product to a cart.
Checking out and creating an order.
Paying for an order.
Each step will allow you to interact with the API in a matter of moments. As part of your learning curve, we've included key information needed to set up a checkout flow in your own projects along the way. For those hungry for more information, we've provided further reading material to showcase additional features of our API, and how it can be extended to fulfill numerous different use cases.
Here's a snapshot of the Checkout step.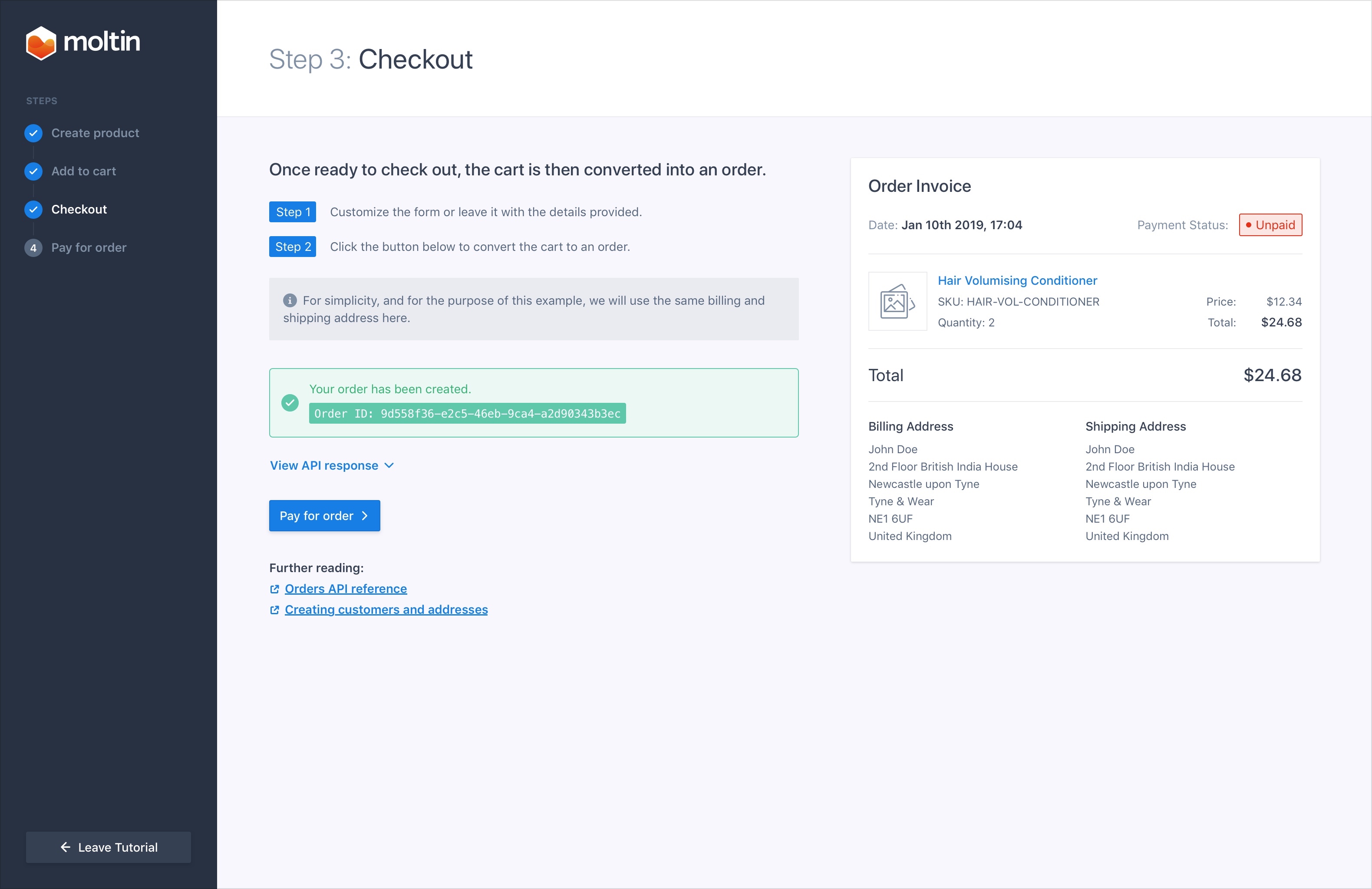 So how does this all work? Simply put, you'll customize the details and run the requests!
We'll handle authentication for you and monitor for when the requests have been made. You'll be able to create a specific product for a specific price and see how it moves through the process from creation to purchase. And if you don't fancy customizing the requests, don't worry, we'll provide some dummy data for you by default.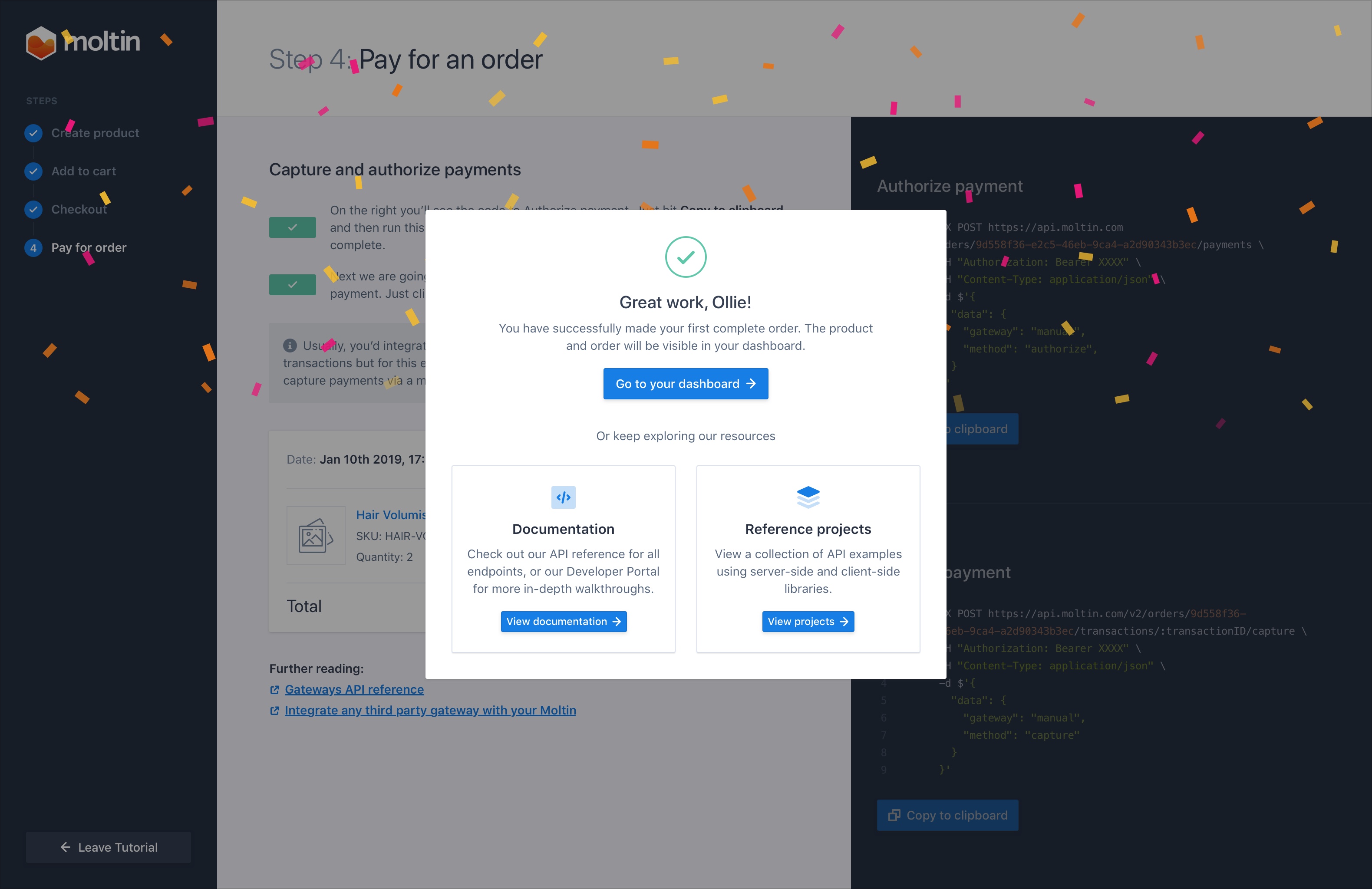 What's next for onboarding
As discussed in a previous blog post by one of the Moltin founders, Jamie Holdroyd, we have big ambitions for onboarding in 2019 with several new projects already on the pipeline.
In the meantime, if you're a developer, we'd love to get your feedback on the checkout tutorial. We'll be making small tweaks here and there over the coming weeks to optimize it. So if you have any feedback, we'd love to hear it!